Die Integration von unterschiedlichen Plattformen und Technologien war seit Unternehmensgründung im Jahre 1999 ein Anliegen von uns. Seither unterstützen wir unsere Kunden beim Aufbau, Betrieb und der Entwicklung von integrativen Standards, die zur Vereinfachung von Abläufen und der Beschleunigung der eigenen Prozesse sorgen.
Unsere Arbeit orientiert sich an den Bedürfnissen unserer Kunden!
Workaround for HCL Notes crashing on macOs 12.6
HCL published a runnable version number for those like me, who already migrated macOs to version 12.6. At the moment you would be able to run Notes on your mac if you downgrade to version 11.01 FP6. This might lead to some error messages depending on your configuration. But you will be able to run a functional version of HCL Notes.
For all others, it is recommended to stick to macOs 12.5 or lower.
Read the KB article
HCL Notes quit unexpectedly after macOS upgrade to the latest version 12.6 Monterey
After Upgrading to Macos Montery 12.6 HCL Notes crashes during startup. This issue has already been recognized by HCL. An upcoming fix will solve this issue.
Up to now you should NOT update your macOs devices to Monterey 12.6 if you are a HCL Notes customer. Wait until the fix has been releaed.
Read the KB-Article!
Native VPN and HCL Notes on macOS
We recognized a major Notes issue on macOS after upgrading to version 12. Each time we opened up a native VPN connection to our office infrastructure the Notes Client was unable to establish a connection to any Domino sever available. First we thought it might be a DNS issue in macOS which is indeed a bit more complicated than expected. But after some tests, we came to the result that it is a Notes problem.
HCL has published a workaround for this thing that might be helpful. You have to add the line
Network_Resiliency=0
to the Notes Preferences file on macOS. If you just have a few of such clients then it might be easier to do this manually (see more detailed information in Notes.ini on Mac OS). If there are a couple of macOS Clients out there or they are located around the world it might be more convenient to use a Desktop Policy to roll out this parameter.
When your Mac machines are back in one of your office networks again they will pull the policy and it will work after a restart of the Notes Client.
Have fun.
M32 Version Widget for iOS devices
We just released a video to explain how to install Scritpable App TM on your iOS or iPadOS device and configure it to run the M32 Version widget we created for free.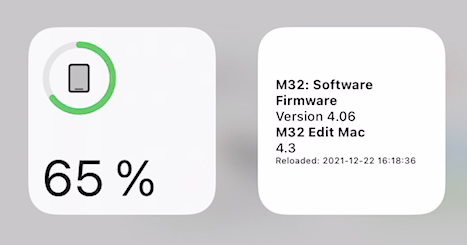 If you are interested in:
Have a nice time! Become or stay healthy!