Where Do I Find NOTES.INI On My Mac
If you try to find the notes.ini file on your Mac you will not find one. All application specific properties will be stored in a file called
"Notes Preferences"
in each users home directory. If your user eg is called Keith then navigate to
/Users/Keith/Library/Preferences/
here you will find the file Notes Preferences which includes the same information and syntax as the notes.ini file.

IBM Notes installation on Ubuntu 12.10 and 12.04 LTS
If you want to use the current LTS release 12.04 or the current release 12.10 it is highly recommended to use the 32-bit version of the operating system even if you have more than 4Gb of RAM installed on your pc.
If you really need to install a 64bit version of Ubuntu use the installation script from Mat Newman (very helpfull, Mat. Thanx for sharing it).
If you decided to use the 12.04 LTS version you should now use the ubuntu software center to install a different kernel. Best choice is a so called PAE-Kernel, which means that you still run a 32-bit operating system which aftwerwards will be able to use 36-bit of memory, which means up to 64Gb of Ram. This might be enough for your laptop ;-).
If you installed 12.10 there is no need to install a different kernel because the generic kernel already has enabled the PAE-feature.
The next step is just for 12.04 users.
After installing the new kernel and rebooting your machine check whether you have the right kernel up and running by typing to a shell
uname -r
which results in something like this: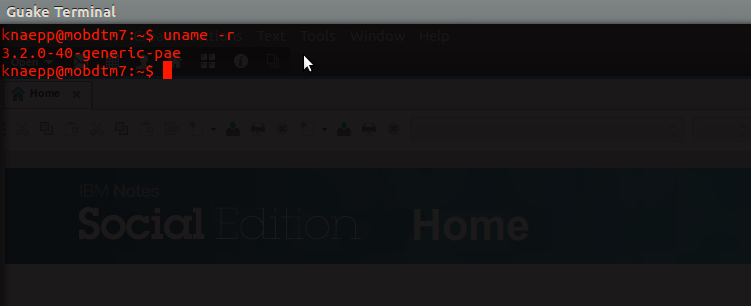 On 12.10 you will just get something like
which is perfectly good enough for us.
After that you have to install some ubuntu libraries to meet all dependencies of IBM Notes. Do a
sudo apt-get install libgnomeprint2.2-0 libgnomeprintui2.2-0 libgnome2-0 libgnomeui-0 libgconf2-4 libgnome-desktop-2-17 libjpeg62 libxss1 ttf-xfree86-nonfree
That's it. After that you can start to install IBM Notes. Switch to the directory where the instalation files are located (eg a network device mounted at /media/install) and start the installation of IBM Notes there by typing
sudo ./smartupgrade.sh
This will install the current version of IBM Notes 9. After finishing the Installation start IBM Notes the first time to configure it correctly.
All components that are shiped will be installed. There is no realy need to install additional libraries to be able to work with IBM Notes on a 32-bit Version of Ubuntu Desktop.
After that, enjoy your IBM Notes client on Ubuntu.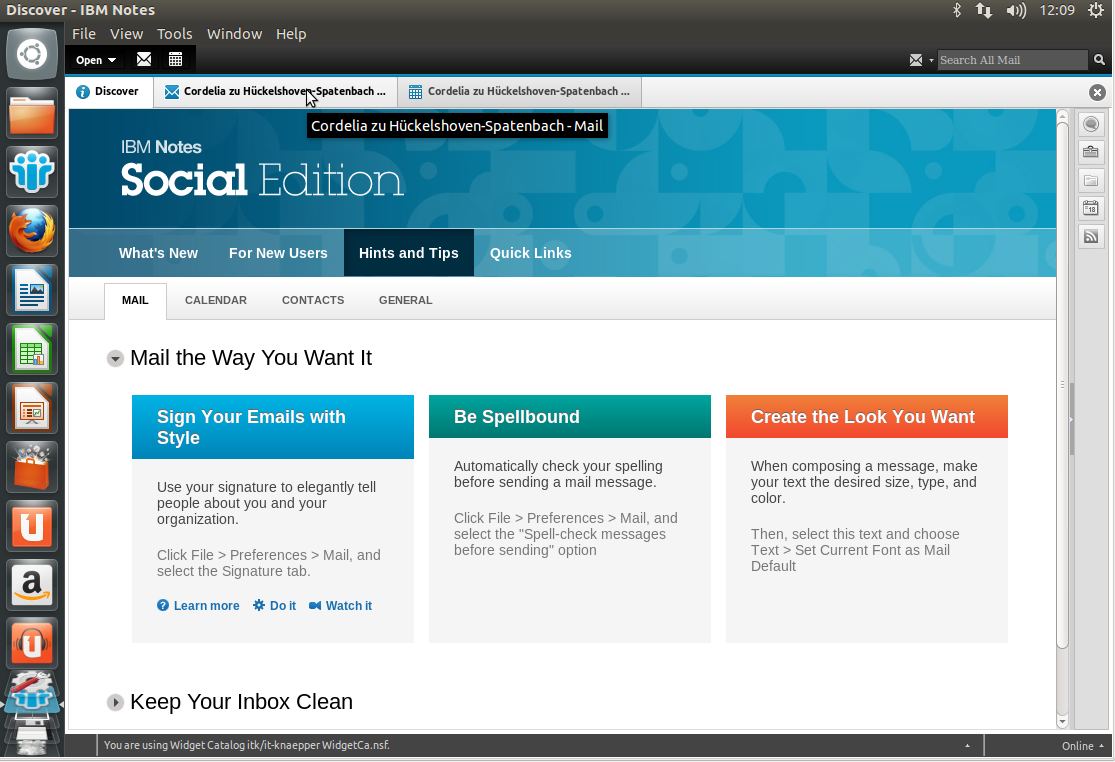 And your PC has a lot of available memory.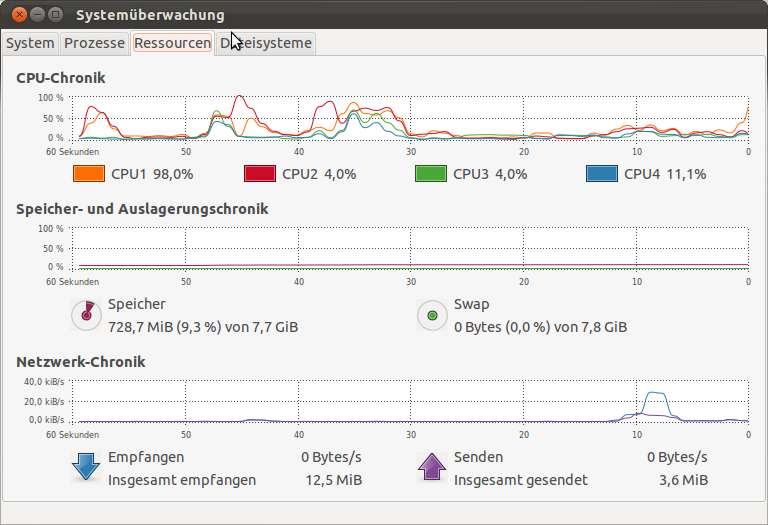 If you want to see this as a video have a look at
Any questions or any feedback to this article? Use the button in the right panel to contact us.
CTRL + M does notes create a new mail in Lotus Notes
If you encounter that using the shortcut ctrl + m does not create a new mail in Lotus Notes and you get the message
Database object can not be located
you have to check your mailbox design. Open the database in Domino Designer and look for the Memo form. Open the form in designer and check the box
Defaul database form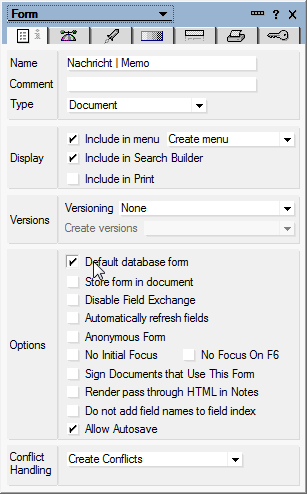 That's it.
Have fun!
Failure after Quickr upgrade
We currently recognized an error message after installing FP 25 to a Lotus Quickr for Domino server 8.5 FP 25. As part of the update process you need to do a
load qptool unlock -a
which was accompanied with the message
failure to execv child process
This was originated by unusual file permission on qptool. You can solve it by issuing a shell command
chown -R 755 *
in your
/opt/ibm/lotus/notes/latest/linux
directory.
This leads into a small trouble because the file
bindsock
must own the sticky bit. So finally we have to do a
chmod u+s bindsock
to finish the update. Now you can follow the instructions of the update i.e.
load qptool unlock -a
and so on with success
Langsames Öffnen von Emails mit IE8 (InternetExplorer 8)
Uns ist aufgefallen, dass Emails mit HTML-Inhalten von Notes 8.X sehr langsam geöffnet wurden. Die Zeit zwischen dem Öffnen einer Email und bis zur Anzeige des gesamten Email Inhaltes lag bei über 40 Sekunden. Als Verursacher dieses Verhaltens konnte der InternetExplorer 8 herausgefiltert werden, dessen Rendering-Engine beim Öffnen von HTML-Emails verwendet wird, wenn er denn installiert ist.
Eine Deinstallation des IE8 und Neuinstallation des IE7 beheben das Problem und die Inhalte werden wieder im normalen Tempo angezeigt.
Microsoft stellt für diesen Zweck ein Tool zur Verfügung, über das der IE7 wieder reinstalliert werden kann. Das Tool gibt's hier
Eine Notes immanente Lösung gibt es auch. In den Benutzervorgaben Menü File - Preferences - Basic Notes Client Configuration - Additional options muss der Wert "Disable embedded browser for MIME mail" aktiviert werden. Dann verwendet Notes den internen Browser für die Mails und nicht mehr die IE-rendering Engine.