Received a Lotus Award for Outstanding Customer Satisfaction in Northeast IOT
As IBM told us some days before Matthias Knäpper received an award for 2011 for his training activies during the last years. Many thanks to IBM and Lotus for the last decade offering trainings and projects together with us that makes outstanding customer satisfaction possible.
We hope to be able to offer a lot of trainings in the future to help customers to enhance their skills all around Lotus Software.
And here comes the award......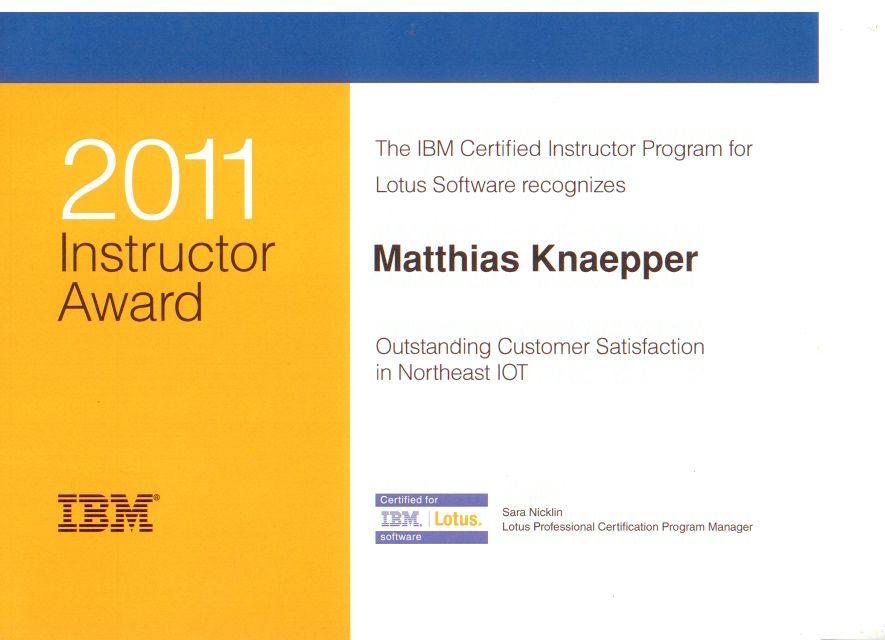 IBM offers XPages Coruseware for free
IBM opens up to OCW (OpenCourseWare movement) and offers the material for their "Introduction to IBM Lotus Domino 8.5 XPages" course D8l55 for free @ Lotus Greenhouse. As Ed Brill, IBMs Director for Messaging and Colaboration, mentions this is IBM's step to support those, who want to start learn on xpages.
There are several other courses about xpages that might be interesting for you.
If you are interested in instructor lead courses contact us immediately!